Wanting to book a funny and amazing after dinner entertainer?
Then look no further than Ian Keable.
Ian seamlessly combines magic, mind reading
and comedy to produce an endless stream of laughs and gasps.
This is a video of Ian performing with Gok Wan on the Alan Titchmarsh show: it is a two minute edited version from the live television broadcast. Scroll down for two other videos of extracts from Ian's After Dinner Act.
Many thanks to you for your amazing performance. Your blend of humour and mind reading was perfectly balanced, the laughter followed by gasps of wonder and the audible ripple of 'how did he do that?' demonstrated everyone's enjoyment to me. After your show many of the delegates congratulated me for selecting you as our entertainer – so thank you for making me look good too. I would certainly recommend you to anyone; your show was everything anyone could hope for at a conference dinner.
Ian is a Member of The Magic Circle with Gold Star. He has received The Magic Circle Comedy Magic Award and has also won the British Champion of Comedy Magic. He has written three books for the general public on magic and also two specialist books for the magic profession: this includes his highly acclaimed Stand-Up: A Professional Guide to Comedy Magic.
On behalf of International General Produce Association I am writing to thank you for your performance at our Annual Dinner at the Café Royal. Two weeks on and our members are still talking about it. You not only completely baffled the whole room but had us all laughing from start to finish. It was my choice to book you and I am very happy to be taking all the compliments now. You made a good evening a great evening. Thank you again.
Ian cut his teeth working in the tough world of the comedy clubs, working alongside comedians such as Lee Evans, Frank Skinner, Harry Hill, Jo Brand and Graham Norton. The fact that he was able to hold his own with these brilliant comedians, whilst presenting his own brand of comedy magic, is a tribute to his skills of interacting with audiences.

He now regularly performs his after dinner show at conferences, corporate events and private parties.



Here are some extracts from Ian's After Dinner Act; it lasts around 5 1/2 minutes but gives a flavour of what he does.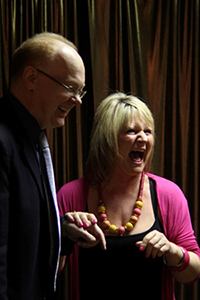 Once again, and I have now seen you three times, you put on a magnificent show. You really made our evening. I received lots of compliments about your performance and comments about where had I found you. One person said they hadn't laughed so much for a long time.
Ian has appeared several times on television, including on New Faces (the precursor to Britain's Got Talent), The Big Stage with Bradley Walsh and the six part Magic & Mystery Show. He has written and presented a documentary on Radio 4 about mind-readers.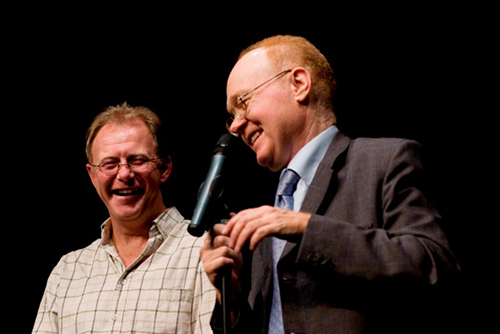 Part of Ian's After Dinner Act includes a hilarious sequence with two men and two chairs. This video has been put together from numerous performances and lasts about 4 1/2 minutes.
I would like to thank you for an excellent evening. I have had some excellent feedback about the whole evening and especially your performance which was generally seen as very professional, clever, amusing and highly entertaining! I don't think there is much I can add to that. Your blend of magic, mind reading and humour were brilliant. Your magic kept everyone guessing and the mind reading left them lost for words. Ian, thank you very much for a really super evening, and I would not hesitate to recommend you for any function.
Thank you for your fabulous performance where you had our cynical and expectant audience amazed, captivated, engrossed and laughing. Asked so many times 'did he set that up?' I could only answer 'he didn't' and had lots of jaws dropping in response.