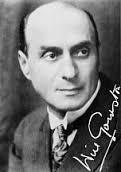 As far as I am aware Will Goldston was the first person who stated that Charles Dickens had written the article 'Out-Conjuring Conjurors', a review of Robert-Houdin's autobiography, which appeared in his journal Household Words in April 1859. He did this when he reproduced the article in Goldston's Magical Quarterly in 1934. This incorrect claim was subsequently repeated by many other magic historians, as set out in my book Charles Dickens Magician.
Will Goldston was the leading magic dealer and authority on magic in the early 20th century; by all accounts an extremely successful businessman and a pillar of society. However a talk at The Magic History Gathering at The Magic Circle this Saturday by Fergus Roy (from the Davenport family) revealed that both his public, and private life, were rather more intriguing than was previously thought.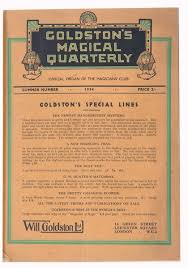 It turned out that, although he was respectfully married, his wife had previously had an illegitimate daughter. And then, later on, he himself had a son by his mistress. During the weekdays he lived in London with his wife, where his work was; and during the weekend he was with his mistress and son in Folkestone. Fergus Roy only managed to uncover the existence of the son because the latter wanted to join the Royal Air Force during the Second World War. The original birth certificate did not state who the father was. But the authorities needed that information to allow the young man to serve his country. Tragically he was killed before the war finished.

Another of Goldston's juggling acts for many years was that he was declared bankrupt - part of the reason undoubtedly due to the fact that he was having to pay for two households. With the connivance of the administrator, this information was kept from public view - otherwise his livelihood would have been ruined. It was clearly successful as his numerous business ventures - which not only included dealing in magic and writing magic books, but also embraced performing and managing other acts - continued to the end of his life.
His final magic trick was his will; where he left much of his property to his wife - but only in trust. On her death it would pass to his mistress. As she was many years younger, he calculated that his real love would eventually inherit the bulk of his wealth; this is indeed what happened. The poignant end to this talk (one of the best that I have heard at this day, combining great detective work with a passionate delivery) was that neither his wife nor his mistress spent much money on his gravestone.