It is fairly easy to get confused between James Gillray and Thomas Rowlandson. A couple of times after my talk on James Gillray, I have had people coming up and asking if I had seen his exhibition on at the Queen's Gallery, Buckingham Palace. I had to explain that actually it was on Thomas Rowlandson and not on James Gillray at all.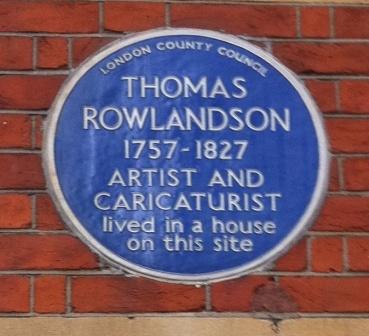 The confusion is particularly understandable as many of the prints that were displayed in this particular exhibtion (it was called High Spirits, The Comic Art of Thomas Rowlandson), had political content that covered the same topics as Gillray. The difference is that one gets the impression that Rowlandson dabbled at political satire whereas, for Gillray, it was seeped through him.

Charles Dickens labelled them together: he called both their work 'wearisome and unpleasant' and their characters 'ugly'. This was because both Rowlandson and Gillray enjoyed portraying both men and women in highly exaggerated styles, which on the whole weren't at all flattering to them. Although it must be said that Rowlandson enjoyed depicting young women as very attractive and sexually alluring.
It is clear that the Royal Family did see them as distinct. When the Royal Collection of prints was sold to the Library of Congress in the 1920s (it was said to have paid for George V's stamp collection, but this is probably a fallacy), the Rowlandson prints were retained, whilst all of Gillray's works crossed the Atlantic. Qutie why Rowlandson escaped such a fate is not known: possibly because he did not attack the monarch as much as some of his colleagues. Or maybe because the curator was embarrassed about some of Rowlandson's more lurid (not to say pornagraphic) prints; and felt it would be more diplomatic to retain them in England.