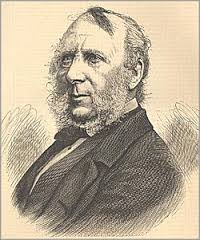 George Cruikshank is the subject of my latest talk. He was one of the many illustrators who worked on Charles Dickens's books, most notably on Oliver Twist. For most people this would be their only knowledge of Cruikshank but in actual fact his work output was phenomenal and spanned close on 80 years.
For me, Cruikshank is a natural successor to my talk on James Gillray; as the former was much influenced in his early years by Gillray. Indeed when Gillray was forced, through illness, to stop working for his employer (and partner) Hannah Humphrey, she took on the young Cruikshank to replace him. And some of his satirical prints - particularly of the Prince Regent, later to be George IV, and Napoleon - come close to matching Gillray in their brilliant draftsmanship and unflinching character assassinations.
Cruikshank was, however, forced to re-invent himself. Satirical prints (standalone images that were sold through print shops) dropped out of fashion, through a combination of the more moralistic Victorian times and new technology enabling copperplate and wood engravings to be published alongside text. It is remarkable that Cruikshank made the transition so seamlessly and was able to embark on a new career as the leading book illustrator of his generation.
It was unfortunate for Cruikshank that he never found another contemporary writer as good as Dickens to match his own drawing abilities. And it was also unfortunate that Dickens dropped Cruikshank after Oliver Twist, primarily because he felt that the illustrator should be very much subservient to the requirements of the author; whereas Cruikshank considered that it should be a partnership - even to the extent of him influencing the writing of some of the text. As one can imagine, this did not sit well with Dickens.
So, sadly, what would have been a great partnership came to an end.